Welcome to my Art Studio!
Cottonwood Public Library
Tuesday, September 18, 2018

8:30 am - 4:30 pm
Stop by.
Ask questions.
Watch me work on a piece of art.
Purchase art.
Thank you to everyone who stopped by in March. It is really great to see such interest.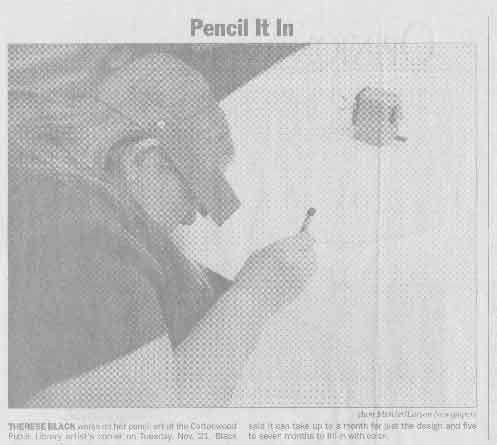 From the Cottonwood Journal, Wednesday, November 29, 2017 - 3A
The text reads:
"THERESE BLACK works on her pencil art at the Cottonwood Public Library artist's corner on Tuesday, Nov. 21. Black said it can take up to a month for just the design and five to seven months to fill in with color."
Credits: Hunt Mercier/Larson Newspapers
Landscapes of the Inner Soul
Kirk-Bear Canyon Library
8959 E. Tanque Verde Rd, Tucson AZ 85749
520.594.5279
November, 2018
Great Christmas gifts.
New art on exhibit and for sale.