Welcome to my Art Studio!
See where I work.
See work in progress.
Be first to see new art!
My art studio is open every Thursday from 10 am - 5 pm. Other times are available by appointment. Sign up for my email newsletter to get information on special studio events.
Purchase art.
Look at art.
Request custom art.
I look forward to seeing you!
Art Demonstration
Cottonwood Public Library
Artist's Corner
Tuesday, March 19, 2019
8:30 am - 4:30 pm
Stop by.
Ask questions.
Watch me work on a piece of art.
Purchase art.
Thank you to everyone who stopped by. It is really great to see such interest.
Sedona Visual Artists Coalition (SVAC)
Spring Artist Open Studios Tour
April 26, 27 & 28 2019
This is one of Sedona's "Can't Miss" events. Fifty (50) of the Verde Valley's best artists open their private studios for this tour.
Stop by my studio and pick up a map. Great new art and gift items.
New "Landscapes of the Inner Soul"
New "Tiny Dancers"
Friday / Saturday 10 am - 5 pm
Sunday 12 - 5 pm
I look forward to seeing you there.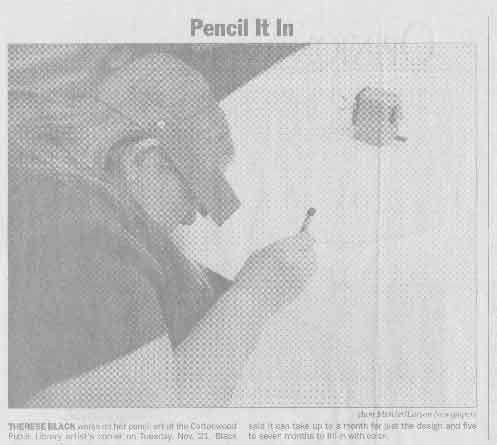 From the Cottonwood Journal, Wednesday, November 29, 2017 - 3A
The text reads:
"THERESE BLACK works on her pencil art at the Cottonwood Public Library artist's corner on Tuesday, Nov. 21. Black said it can take up to a month for just the design and five to seven months to fill in with color."
Credits: Hunt Mercier/Larson Newspapers