What have you done that was totally new? Have you ever had a new job? What was moving out of your parent's house like? Perhaps it was like a leap of faith.
Leap of Faith
Original
4.528 inches wide x 22.5 inches high
Colored Pencil & Ink on Cotton Watercolor Paper
Let me tell you a story...
Everyone has taken that leap. For some it is a new job, going away to college, getting married, or having children. For others, that leap may be something much less tangible such as practicing meditation. At some point in life, you stepped into the unknown hoping for the best. You took your "Leap of Faith".
The "Leap of Faith" often feels like jumping off a cliff. You don't always know where you will land or how it will turn out. You hope for the best. A leap often results in personal change. Perhaps you learn new skills or change your way of life. Maybe the new responsibilities change your outlook on life. A transformation occurs.
Just like the caterpillar transforms into a butterfly, the "Leap of Faith" almost always leads to some type of change within a person's life.
What have you done that required a blind leap into the unknown?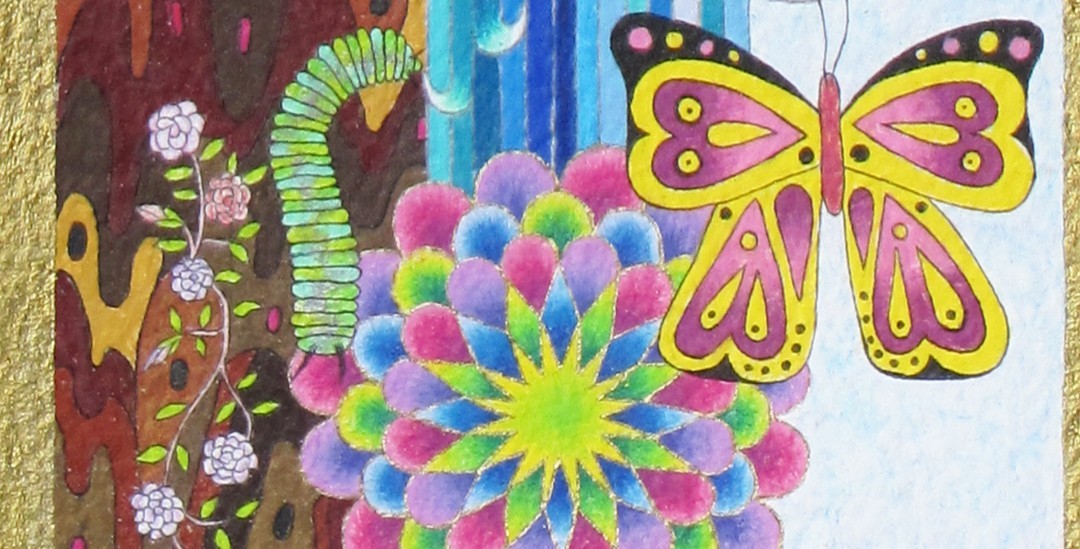 Detail image of "Leap of Faith". The fine line work is ink. All color is done in colored pencil. The gold outer border is ink.